Testimonials
The following are testimonials from people known to Cú-Chulainn Driving Lessons Cork that are quite legitimate. Unfortunately, due to data protection laws, this driving school has not always divulged the full identities of the people who have provided these testimonials without their initial consent.

What our driving lesson customers think about us:
To see our latest reviews click here.

Stephen W. (March 2015)
Hi, Just want to let you know that I passed my driving test. Want to say thank you for teaching me properly to drive.
Niamh H. (February 2015)
Coming from the countryside I could never imagine myself ever driving in cork city but now I don't mind at all! Such a great driving instructor! Very patient, calm, put you completely at ease during lessons. Enjoyed every lesson. Would highly recommend to anyone!
Anne Marie D. (October 2014)
He is an excellent driving instructor; patient, professional and committed. He is a very calm-natured person who makes you feel totally at ease while driving. Thanks to him I passed my test first time around. I would highly recommend him to anyone.
Michael C. (October 2014)
A brilliant teacher, went out of his way to help and was very accommodating. Would recommend to anyone learning to drive in Cork!
Emily K. (August 2014)
Great instructor, I passed first time around!
Patrick C. (June 2014)
"
Hi, Caoimhghin. Good news. Passed the test. Just want to thank you for all your help throughout the lessons. Much appreciated! Thanks again."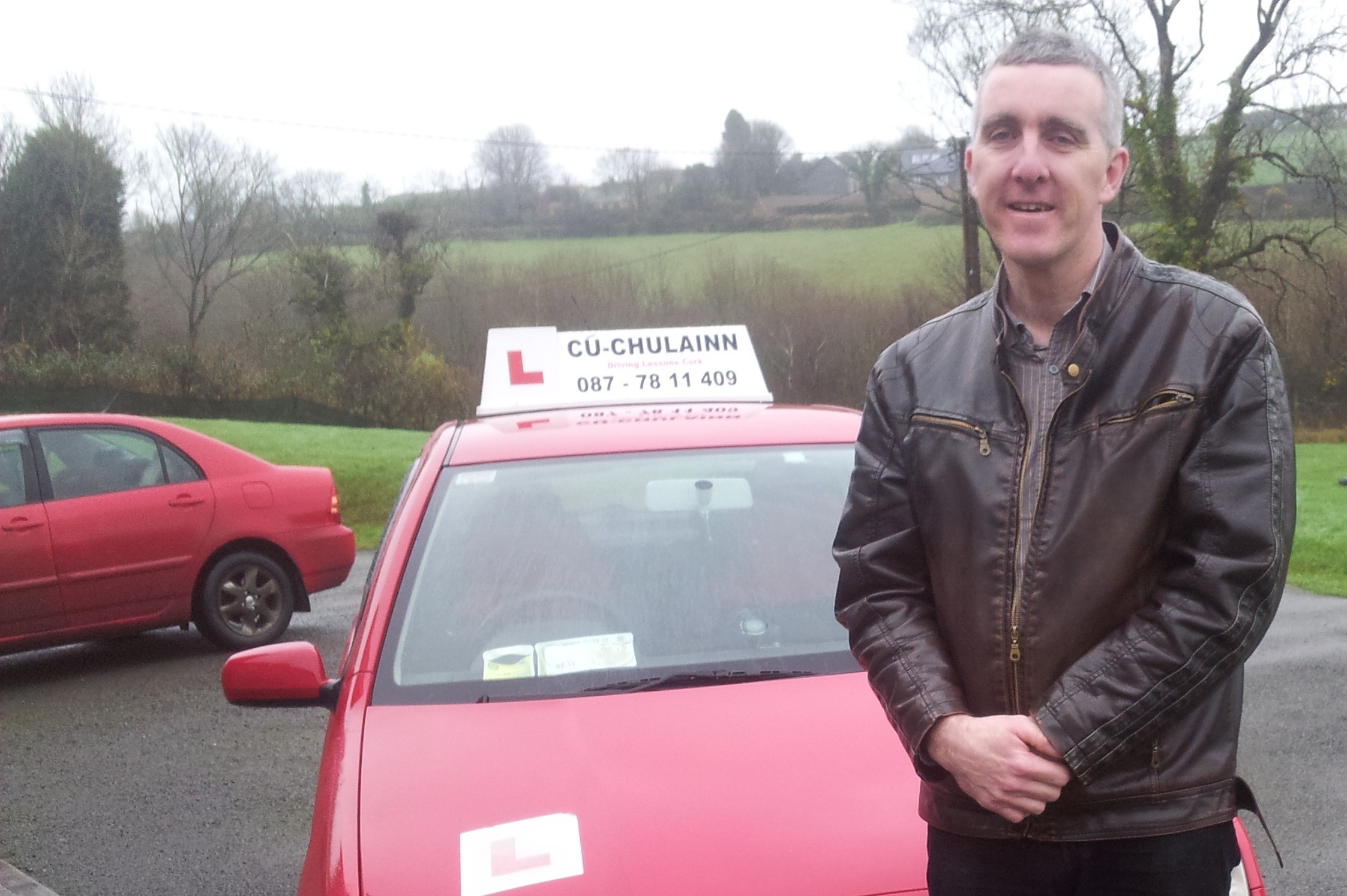 Linda Horgan, Occupational Therapist. (December 2013)
"
I have worked with Caomhghin for approximately eight years when he worked with the Irish Wheelchair Association in Cork.
He was exceedingly patient with people who were completing on and off-road assessments for driving following injury or illness. He reassured people despite their anxiety and difficulties with driving. He was also great to work with people on returning to driving after illness or absence from driving. He has assisted some of my extended family in returning to safe driving and maintaining safe driving. I would have no hesitation in recommending Caomhghin. "
Fiona C. (November 2013)
"

Very professional. My daughter Robyn learned so much in the two hours. Would highly recommend Cu-Chulainn Driving Lessons."
Don O'S. (September 2013)
I passed the test. Thank you very much for all your advice. I am delighted, thanks, and best of luck to you.
Lucia O'D. (September 2013)
Thanks, Caoimhghin for teaching Elinor so well. Your instructions were noticeably clearer and better than the previous person. Her confidence went up hugely after just 3 lessons with you and we were delighted that she passed her test today.
Zoe E. (May 2013)
"
I will hold on to your mobile no and pass it on to anyone I come across looking for driving lessons in the full confidence that you are a great driving instructor, calm and reassuring."

Grahame C. (March 2012 )
"passed first go!! Great instructor and a great guy!!"

Audrey Mc. (June 2011)
"

I know it is over a year but the Great driving instructor, highly recommended!
"
Therese H. (June 2011)
"Test passed! thanks a million! great instructor "
The Wilton Roundabout
Méabh B. (May 2011)
" Thanks for all the help! I'm delighted I passed "

Carol R. (May 2011)
" ....and yes I am still driving after you had the patience to miraculously teach me haha.....I couldn't live without my car, to be honest, my car is like my legs and it has allowed me the freedom to do so many things in life and travel to different places that I just wouldn't have been able to do if I didn't learn to drive....as I always say to people, You gave me one of the greatest gifts that I could have ever wished for "the ability to drive" and I don't think I could ever thank you enough for doing so. So from the bottom of my heart Thank You Caoimhghin! "
Content edited by Caoimhghin Whyte.